Wellness centre
Pamper yourself in our wellness center, a peaceful and tranquile oasis which is available throughout the year. Wellness hotel Panorama doesn't offer only high quality accommodation and exceptional cuisine, but a wide range of wellness services for your ultimate relaxation as well.
The room rate includes rich cold and warm breakfast buffet, bathrobe and slippers available in the room upon arrival, parking (50 m. from the hotel), access to the wellness MELISSA / adventure pool /, fitness center access and Wi-Fi internet connection throughout the building.
Relaxing pool - used for therapuetic water gymnastics, with many water attractions - backflow, massage jets for different parts of the body, water geysers, massage seats etc. Pool size 9 x 5 x 1.3 m with a temperature of about 30-31 ° C
Wide range of massages – for detailed information click here here
Private whirlpool - hot water \at about 38 ° C, therapeutic massage by whirling water
Finnish sauna - hypertermic bath air, which will rid your body of harmful substances, strengthens the immune system, increase metabolism with air temperatures from 85-100 ° C
Ice bucket
Steam bath - relaxation at 100% humidity and with temperature of about 50 ° C
Herbal aroma sauna - acting herbs that help you de-stress
Water baths - underwater massage, traditional hydrotherapy, pearl and whirl bath
Tepidarium - relaxation rooms with heated seats and relaxing music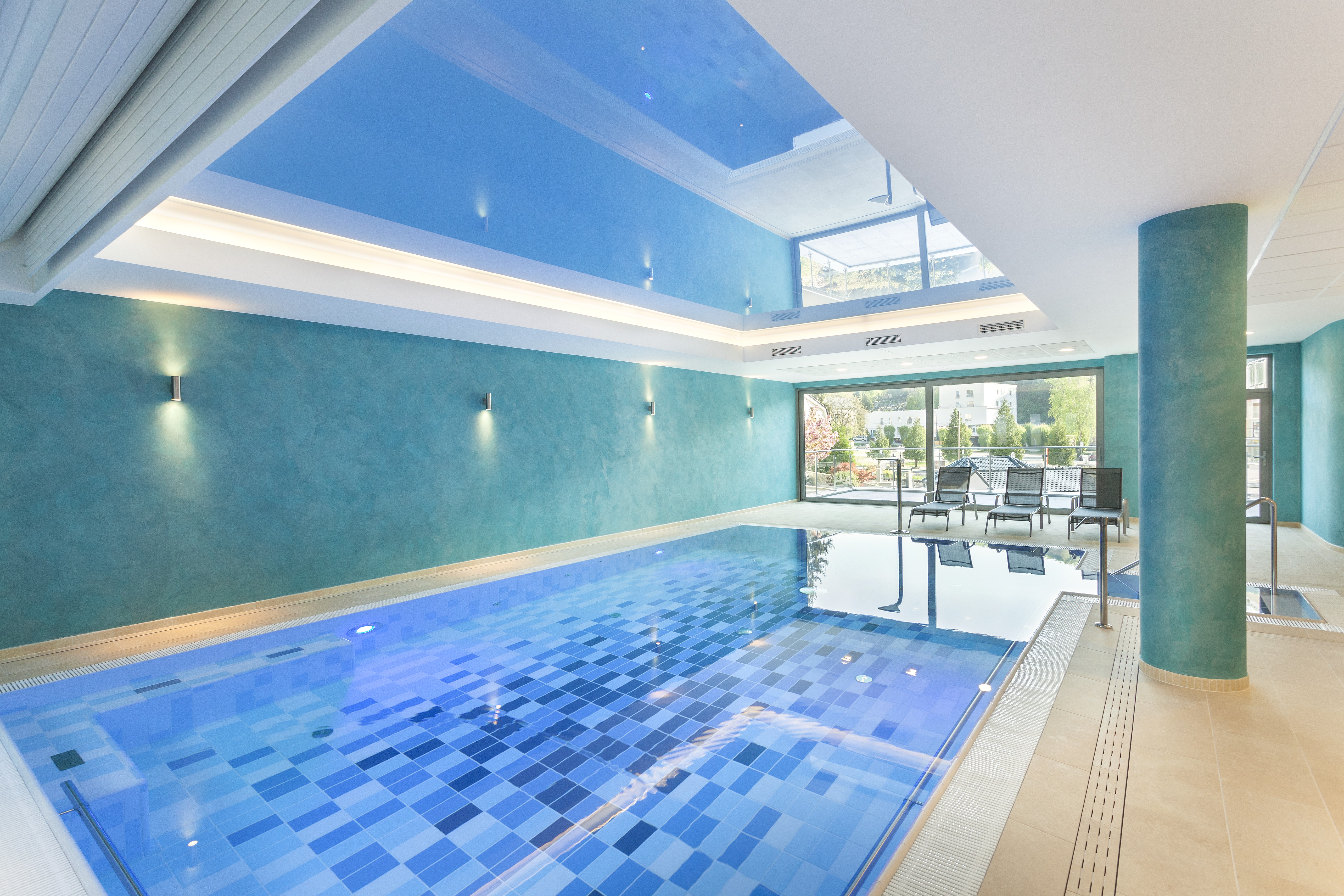 Phone reservation: +421 948 598 335
Reservation will be confirmed only after payment!
Relaxing pool
Use of water for medical gymnastics, with many water attractions - backflow, massage jets for different parts of the body, water geysers, massaging seats etc. Pool size 9 x 5 x 1.3 m with a temperature of about 30-31 °C.
Therapeutic exercise in the pool
Group excersise. Not only the effect of excersising is applied but the effect of water and its temperature as well. Water is floating the body and that is why the movements are easier, smoother and the weight of organism by excersing do not overload ailing supporting joints. The movements are more relaxed and the pain which would normally be caused by sharp movements is therefore limited. Water resistance is important for the gradual load increase and improving muscle strength and fitness. Excellent results of musculoskeletal system are achieved.
Exercise takes 20-30 minutes, 2 times a wees. In cases of individual gymnastics, frequency of the exercise is determined on a case by case basis.
Private wellness 
Private wellness is designed as a separate package in an intimate atmosphere for about 5 people. Hot water at about 38 ° C with swirling effect of water massage therapy will satisfy your needs. We believe that intimate settings of private wellness, candles, sparkling wine and comfortable launges will attract couples in love as well as groups.
Finnish sauna
Do you want to get rid of the toxins in you body and you don't mind higher temperatures? We have a hyperthermic air bath just for you! It will rid your body of harmful substances, strengthen the immune system, and speed up your metabolism. The Finnish sauna has many additional positive effects on your health. You can consult these effects with our proffesional staff who wants only the best for you. Your health really matters to us. Finnish sauna is ideal for 4-6 persons. Air temperature is at about 85 – 100 °C. After using the Finnish sauna, we recommend cooling down with an ice bucket.
Steam sauna
Maybe the sauna at very high temperatures it is not suitable for your body, nevertheless you desire to get rid of toxic substances and strengthen the immune system - we have the appropriate solution for you - relaxation at 100% humidity and 50° C in a steam sauna. According to your requirements it is possible to install sea or oxy-salt climate or aroma steam bath. Steam sauna is recommended for people suffering allergies, colds, upper respiratory tract diseases, rheumatic diseases, for the overall cleansing of the body from toxic substances and purifying the skin. The capacity is 4-6 persons.
Ice bucket
It is cooling system consisting from ice water. Do you have enough courage and endure ice shower after Finnish sauna? Did you know that you are doing very well for strengthening the immune system of your body? Soon you will feel the resulting effect of this procedure in enhancing your health and vitality. Cooling the body immediately after the sauna is not only a great way of hardening and a certain amount of courage, but there is a massive stimulation of the immune system and increase the number of red and white blood cells with positive effects on your blood circulation.
Herbal aroma sauna
Do you also need to completely get rid of stress that is attacking us from all sides? Do you need to get advice about how to do it? Leave on the smell of herbs to your senses and forget about your daily routines. Herbal aroma sauna will take you at least for a while into state of clear mind and harmony. Comfortable sitting or lying with herbal inhaler.
Vodné kúpele
Spa is suitable for rehabilitation purposes, such as herbal bath with added herbal extracts and essential oils, or for intimate use bath in pairs or single.
Underwater massage: t

ub bath connected with massage made by stream of water from massage jets applied by masseur. The experienced masseur can directly influence the intensity and the nature of the massage just by setting the angle and distance of the nozzle. 

Massage is becoming very pleasant and the effect is comparable to the manual massage, while pleasant temperature of streams of water that overheats overloaded and constricted muscles plays an important role. 

The water temperature is 37 ° C., the procedure takes 10-30 minutes. 

After the massage you will feel muscle relaxation as well as pleasant, mild fatigue release. 

It is suitable after chronic inflammatory and degenerative diseases of the spine and joints, blood circulation disorders and mental relaxation.

Spa: 

The tradition of spas is associated with the tradition of hydrotherapy. 

Peaking of hydrotheraphy was reached in German spa tradition. It is inevitable to note that in German textbooks it is often cited Gregory Priesnitz as a founder of Czech hydrotherapy. From that time the system wraps and sprays took over a lot of modern elements. Modern hydrotherapy uses mainly reflective impact of warmer and colder applications of hydrotherapy stimuli. Thanks to precisely reprocessed procedure the change of blood flow and improved metabolism, including pain relief is achieved. A separate chapter is spa and physical therapy in the pool. Hydrotherapy plays a role especially in diseases of the musculoskeletal system, spine pain, but also coronary heart disease. 

After completing all procedures 30 minute resting is recommended. This procedure is time-consuming and physically demanding, so we recommend that you do not plan a different program.

Whirlpool: e

ase releasing bath and calming massage. 

Water in rehabilitation bath is bubbled with air and you can add different ingredients (aroma, sulfur, etc.) 

Water temperature: 36-37 ° C. 

The duration of the bath: 15-20 minutes
Tepidarium
Therapeutic, recreational and relaxation rooms with heated seats, beautiful shapes, nice relaxing music and the air flowing fragrance will arrange for a relaxing atmosphere that will definitely make you forget all your worries and help you to get rid of stress.
Opening hours of pool:
MON:11:00 – 20:45
TUE- FRI: 7:30 – 21:00 (Adults only)
TUE- FRI: 9:00 – 20:45 (Adulds and kids) 
SAT: 7:30 – 9:00 (Adults only)
SAT: 9:00 – 21:00 (Adulds and kids)  
SUN: 7:30 – 9:00 (Adults only)
SUN: 9:00 – 20:00 (Adulds and kids) 
Opening hours of sauna world:
MON - THU: 16:30 – 20:30 (According interest)
FRI: 15:00 - 20:30
SAT: 09:00 – 21:00 
SUN: 09:00 – 19:45 (According interest)